Look no further if you need Computer Repair or Data Recovery for your Mac or PC in Portland, Maine.
Since 2005 Necessary Technology has been providing Maine's best computer repair and technology support services from our Portland, Maine store on Forest Avenue. Our goal has always been simple; excel at customer service and deliver the best quality Apple Mac and Windows PC repairs, service and support. That's the type of experience and dedication you can trust and deserve to get you and your technology back on track.
We specialize in providing our customers with not just the technology repair and support they need, but excellent customer service and convenience. We offer free diagnosis and flat rate costs so you have the exact facts to make your repair decisions without any surprises. We have been servicing Windows PC machines since 2005 and we are Maine's only locally owned Apple Authorized Service Provider since 2016. Whether you use Windows PC machines, Apple Macs, or both in your household or business, we're your one stop solution.
We maintain convenient regular hours from 9 AM to 5 PM Monday through Friday and rather than forcing you to brave the crowds and carry your expensive desktop computer, laptop, or tablet through the mall, we have an easy-to-access storefront just off 295 exit 6B near the USM library with free parking a few steps from our door.

We provide in store services with no appointment required, walk-ins are welcomed. We also offer remote assistance when necessary and we also accept machines shipped to us for repair.
We will work with you as needed to make your expereicnce as quick as painless as possible. When your technology is having a problem you need someone to make it better, quickly and painlessly, That's what we strive to do everyday. Stop in, call us or email to get your road to repair started.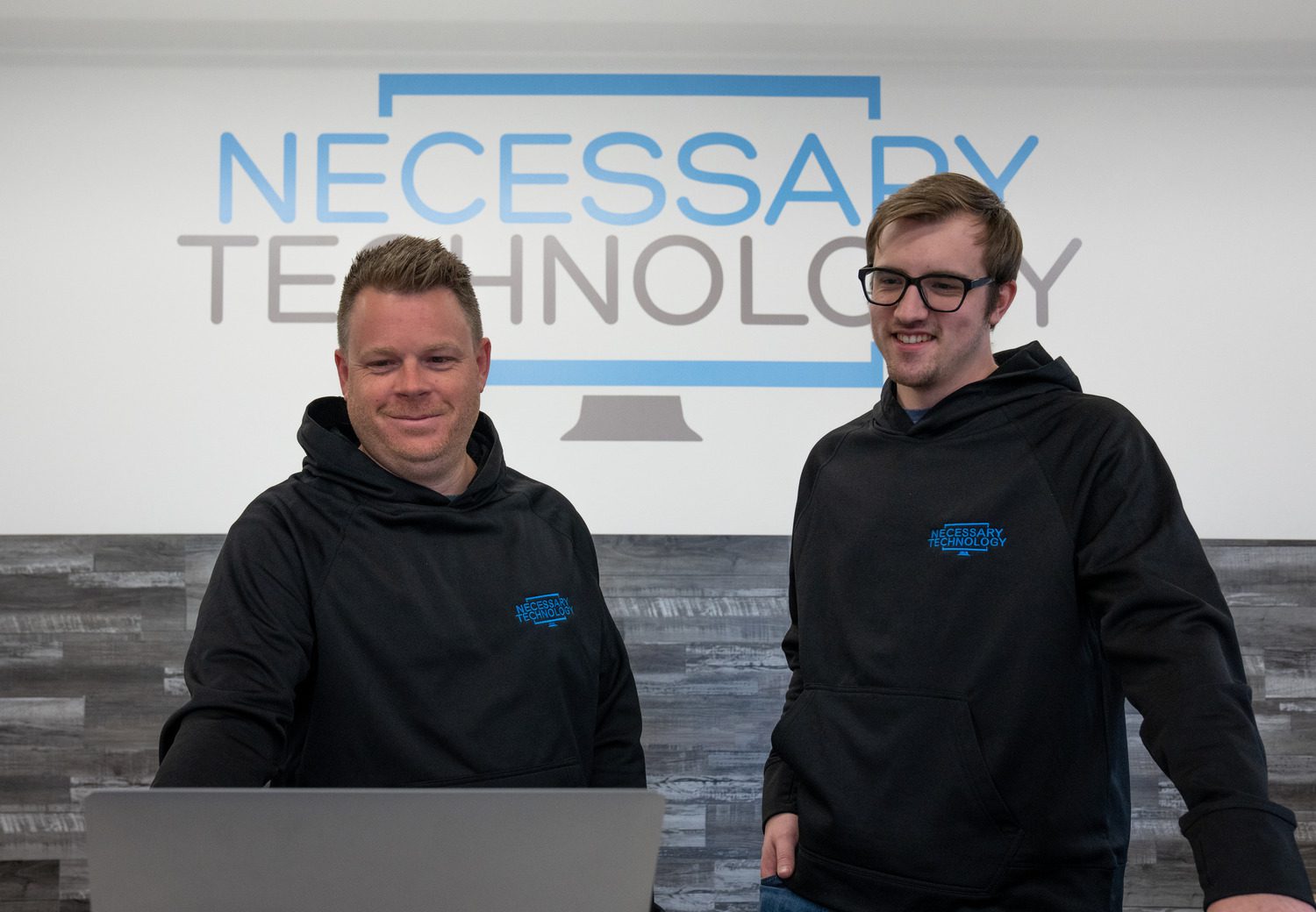 Desktop PC Computer Repair
It can be a real nightmare trying to diagnose a problem with your desktop by yourself.  If you start googling, you'll find hundreds of people trying to be helpful with very specific fixes to very specific problems.  How are you expected to know what power supply you have to check if it's a problematic model, though? Where is the RAM so you can try "re-seating" it? What exactly is re-seating anyway?
If you had unlimited time and patience, and a lot of luck, you could probably fix several of the common problems desktop computers face.  However, you might also end up spending hundreds of dollars and many anxiety-inducing hours on fixing what seems to be the problem, only to find it wasn't even your actual issue, and you're no closer to a solution than you were at the start.
This is why Necessary Technology is here for you.  We've been in computer repair for most of two decades.  We've seen it all, literally.  Over the years, we've worked with every kind of computer and fixed every kind of problem.  We're masters of troubleshooting, sourcing replacement parts, and saving your critical data even if your device is beyond repair.
Laptop Computer Repair
For all that, desktops can be tricky; laptops are even more challenging for the average user and even dedicated enthusiasts to fix.  When a desktop breaks down, you can usually take it apart without damaging it.  When a laptop breaks down, you can risk any warranty you may have and even cause additional system damage just by opening it incorrectly.  When it comes to laptops, especially when they're important for your work and play, you need a real professional on the job.
We have the tools, expertise, and long experience to safely and effectively work on any brand of laptop in need of repair!  We know exactly what type of M.2 drive or RAM your model needs for an upgrade, how to safely extract your data from a dead machine, and how to resuscitate all but the most severely damaged devices.  Plus, with free diagnosis and flat repair rates, you never have to wonder and worry about how much a repair will cost you.
Mac + Apple Services
As Portland's only Apple Authorized Service Provider, we're the first choice when it comes to making sure your Apple desktop, laptop, iPhone, or iPad gets repaired correctly and without violating your warranty.  In fact, we accept and honor Apple Care and Apple Warranties, just like an Apple Store would.
Plus, unlike the only Apple Store in the state of Maine, we have a convenient location with off-street parking at our entrance.  That means you don't need to haul your precious and expensive equipment through a packed mall to get it repaired.  If you've ever had to carry your very expensive Apple desktop workstation through the mall, you know just how challenging and nerve-wracking it can be!  Save yourself the hassle and save time by coming to Necessary Technology.
Data Recovery Services
Data is so important to our daily lives, that it's no surprise that losing our personal data is a common fear and a real nightmare people encounter all the time.  Whether you broke your phone and need to retrieve your data from it, accidentally deleted your precious family photos, can't get your computer to boot up anymore, or even accidentally downloaded a virus that corrupted your data, we have the tools and expertise to help!
At Necessary Technology, we have three levels of data recovery service suitable for problems as simple as accidental deletion or as complex as total drive failure or data corruption from malicious software.  No matter what happened to your data, we'll be here for you with free diagnosis and honest talk about your options to fix the problem.
Technology Consulting
Just because you don't have a Broken device doesn't mean we can't help you. Whether you are looking for help setting up your email, figuring out the best way to navigate your new device, learn the best way to store your thousand's of photos, or talk about device security, we are here to help!
Approach
Why Choose Necessary Technology?
Before Computer Service comes Customer Service.
You know it when you get it; great customer service. An experience where you know someone genuinely cares to ensure you are satisfied. We've cared about it since day one and work every day to get better at it. Hearing a customer say, "You've made my day better." makes it all worth it!
Free Diagnosis and No Obligation for Service.
Diagnosis is always free, so you can know what the issue is, the recommended solution, the time to complete, and a flat rate cost before you have to decide on what to do. We don't believe you should have to pay just to know what your options are. That's just not right.
A foundation of experience and proven results.
With over 17 years of computer repair, service, and consulting under our belt, we have seen almost everything, and if we haven't, then we have the skills to tackle that problem and find the solution. We are constantly learning to be prepared to do what we do best, solve problems for you.
Locally owned and not located at the mall.
When your technology goes down, and your life comes to a halt, the last thing you need is a trip to the mall for a big box corporate experience. We save your time, money, and sanity with our simple, straightforward, and honest process based on our Maine values. You are our community, and we aim to treat you as such.
We're the only locally owned certified Apple service provider in Maine
We perform almost all repairs on-site for not just Windows and Chromebook computers but Apple products, too.  In fact, we're the only certified apple service provider in Maine to perform repairs on-site.
Need Help Right Away?
If your own "necessary technology" is acting up, crashing, not booting up, suffering from viruses, or just plain unreliable, give us a call at (207) 773-8324 or stop by our location at 334 Forest Ave, Portland, ME 04101.  At Necessary Technology, we are ready to help with all kinds of technology repair and troubleshooting services!
We are available anytime M-F 9-5, no appointment required. We are your ONLY APPLE AUTHORIZED SERVICE PROVIDER in Portland, Maine. That means we have been trained and certified by Apple to get you the same repair standards you would get direct from Apple, guaranteed by Apple. We use Apple Parts that are brand new and direct from Apple. We also honor APPLE CARE and APPLE WARRANTY service the same as the Apple Store. Those standards combined with our focus on customer service means you are getting the best of both worlds, plus, you don't have to go to the mall.
Visit or call, we are eager and available to help you with your MacBook, MacBook Pro, MacBook Air, Mac Pro, iPhones, Air Pods and Apple Watch.
Start Your Repair
TESTIMONIALS
What People Are Saying
I've had two great experiences at this locally owned business. The first time was with a difficult hardware issue for a Windows PC, and they fixed it at a good price within a day or two. The second time was with battery replacement for an older Macbook Pro (where the battery is fused to the unit), and their free diagnostic service helped me with the cost/benefit analysis of repair vs. replace. All staff, including the front desk, technicians, and owner, have been communicative, straightforward, and respectful. The shop has a well-organized check-in and check-out process, and I appreciate that appointments are not needed.
Called to explain the problem-"we can handle that"…dropped off on a Wed, they called, as they said they would,  Friday with a diagnosis…which was explained to me so that even I could understand it…provided a repair time and even surprised me with a repair…days ahead of schedule…extremely pleased with service and fair price!!!!
Many, many thank yous for being available at my scheduled time and for the quick servicing of my laptop keyboard. Service was completed during the visit. Much to my surprise. I enjoyed interacting with each person there that I had.
This company is the BEST.  They don't work in a fancy place, they give advice straight from the hip regardless of whether or not they will make money on it.  A couple of times they have told me over the phone what to do that does not cost me anything.  Just good advice like the kind you'd get from a neighbor who is also a professional in this field.  Can't recommend them high enough.  Thank you for being there.